Compositions from CCA made world premiere at HK SciFest 2021: Music Office Ensembles X e-Orch Concert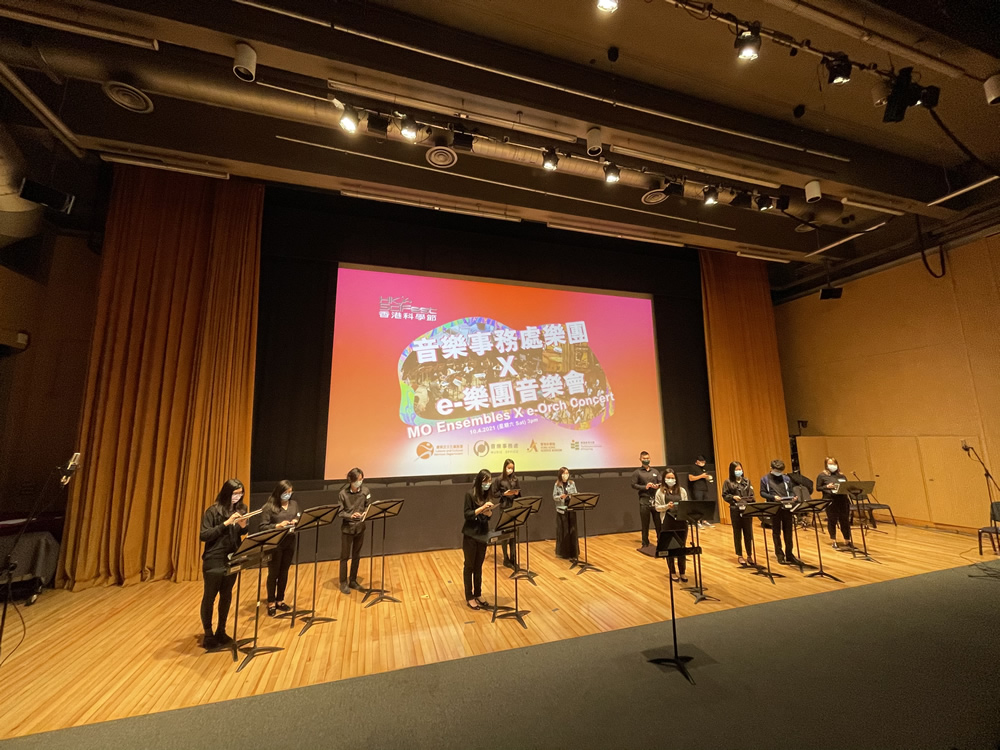 EdUHK's e-Orch players playing an original composition by our students.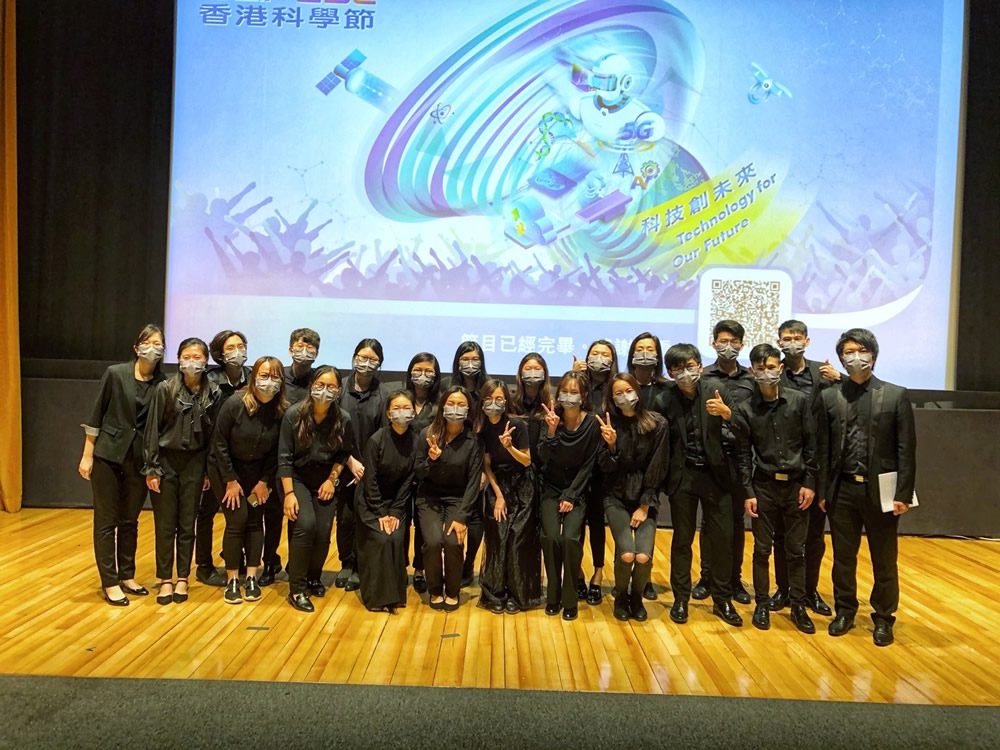 Dr Leung (front row, far right), Fung Tsz-ching (front row, fifth from the right) and To Kiu-fung (back row, far right).
The Department of Cultural and Creative Arts (CCA) is not only dedicated to nurturing arts practitioners, creative thinkers and cultural leaders for the community, it also strives to bring music and other forms of art to society. In April, CCA joined hands with other arts organisations to participate in events held for the HKSciFest 2021 to share the joy and knowledge of music with the general public. HKSciFest is an annual festival hosted by the Hong Kong Science Museum to promote popular science in Hong Kong and establish a culture of science in our society.

In the "HKSciFest 2021: Music Office Ensembles X e-Orch Concert" held on 10 April at the Hong Kong Science Museum Theatre, e-Orch players from EdUHK's Music Innovation and Design Lab shared the stage with the Hong Kong Youth Chinese Orchestra Ensemble and the Music Office Percussion Ensemble. Together, they presented an experimental programme which merged Art Tech with a conventional musical atmosphere for the audience.

Original compositions by Fung Tsz-ching (Bachelor of Arts (Honours) in Creative Arts and Culture, Year 1) and To Kiu-fung (Bachelor of Arts (Honours) in Creative Arts and Culture and Bachelor of Education (Honours) (Music) (Co-terminal double degree), Year 4) made their debut at the concert and played to a full house. Dr Leung Chi-hin, Assistant Professor at CCA, was commissioned by the Music Office to compose two inter-disciplinary musical works, which also made their world premiere at the musical event.

Dr Leung said, "It has not been easy to organise a concert during the COVID-19. Our students and colleagues from Music Office and Hong Kong Science Museum of the Leisure and Cultural Services Department put in a lot of effort to make it happen. To promote Art Tech to the community, we designed a simple tool to engage the audience. By scanning a QR code in the programme leaflet by their smartphone, the audience can make music with our original compositions. Senior staff from the Music Office and the curator, Ms Bertha Yeung Ming-sze from the Hong Kong Science Museum, attended the concert and gave us very positive feedback, especially on the integration of arts and science."

In another HKSciFest 2021 event, Dr Leung was invited as the guest speaker for two STEAM (Science, Technology, Engineering, Arts and Mathematics) Music Family Workshops organised by the Music Office. The workshops were designed for children and their parents to enjoy music making through the application of electronic building blocks.