Research and Scholarly Activities
Policy Dialogue Series 2020/21 successfully held to share insights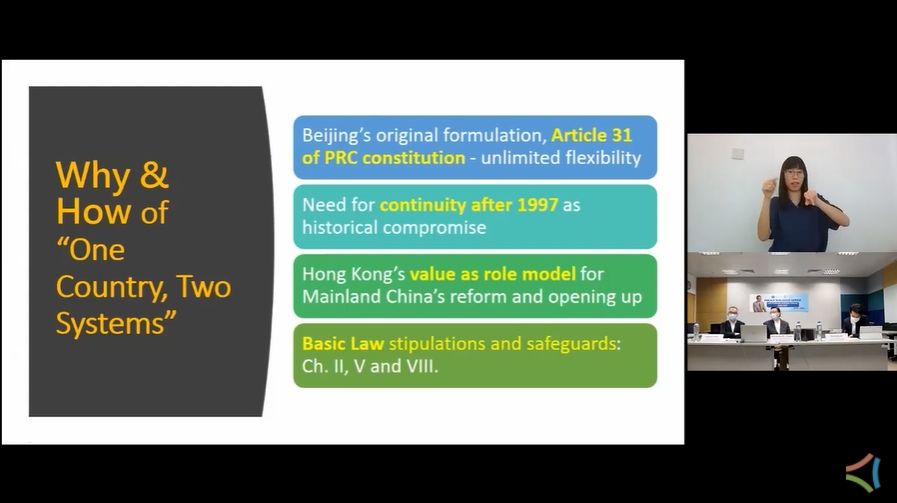 Policy Dialogue 1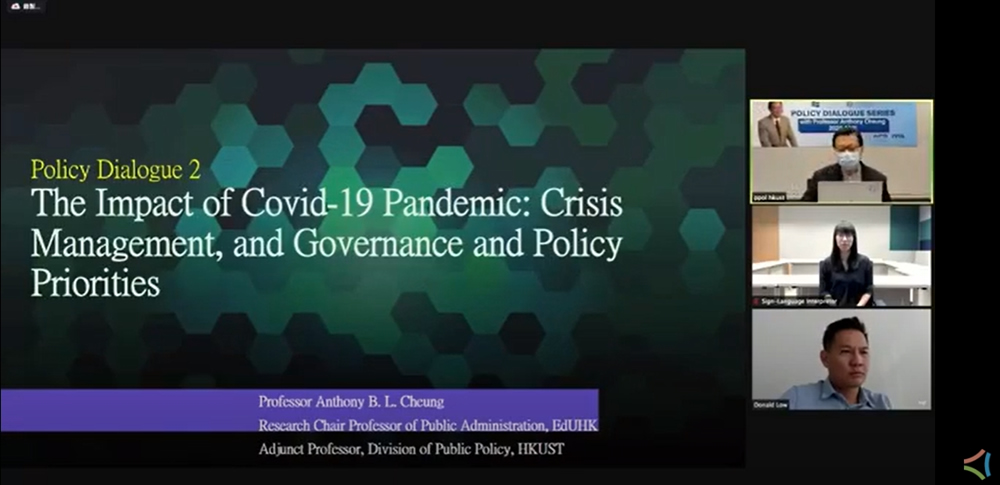 Policy Dialogue 2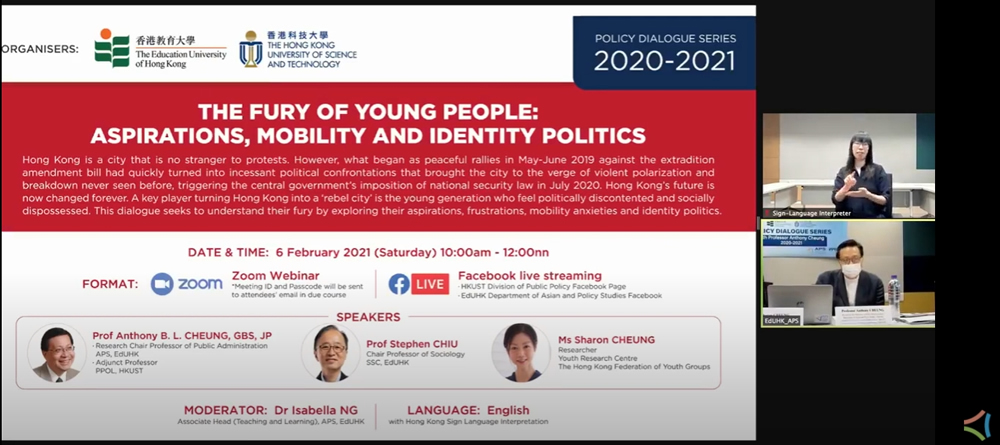 Policy Dialogue 3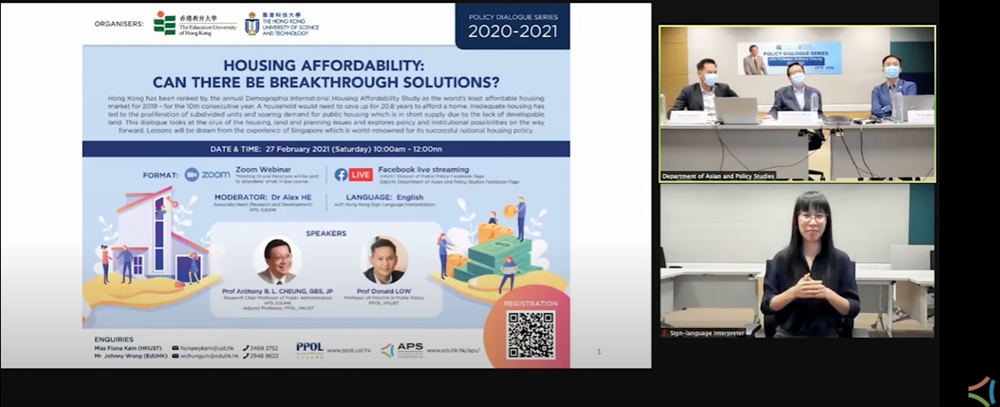 Policy Dialogue 4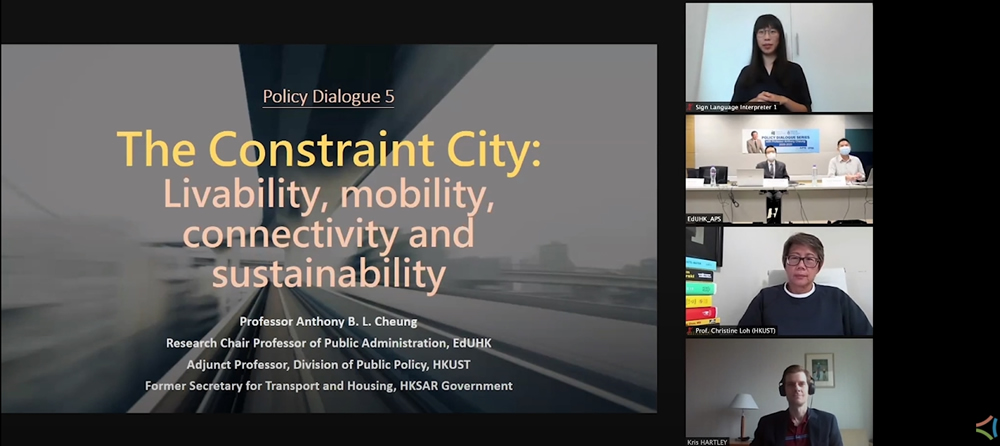 Policy Dialogue 5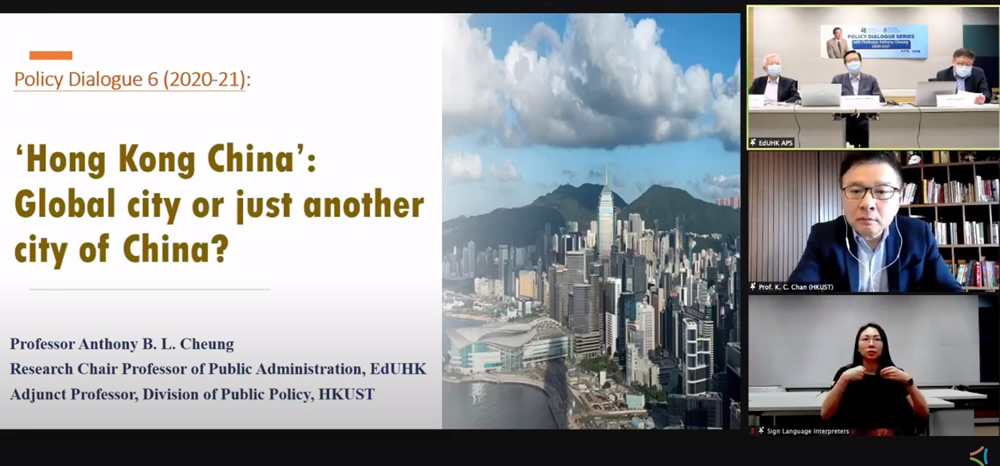 Policy Dialogue 6
Since the 2018/19 academic year, the Department of Asian and Policy Studies (APS) at The Education University of Hong Kong (EdUHK) and the Division of Public Policy at The Hong Kong University of Science and Technology (HKUST) have been jointly organising the Policy Dialogue Series. In 2020/21, six online dialogue sessions were successfully held as part of the series. These sessions featured Professor Anthony Cheung Bing-leung, Research Chair Professor of Public Administration with APS, as the principal speaker of the series. Professor Cheung was joined by other leading academics and speakers in the respective fields to discuss a wide range of contemporary public policy challenges facing Hong Kong.

To facilitate public policy discussions, distinguished scholars from Hong Kong and overseas were invited to share their insights in the areas of youth development, housing and urban development, health and social well-being, and political development of the city.

All six of the latest dialogue sessions have been uploaded to YouTube for public viewing.


Date
Topic and YouTube link
Speakers
10 October 2020
Still 'Two Systems'?: Hong Kong under national security law and new global geopolitical environment
Professor Anthony Cheung, EdUHK
Professor Lui Tai-lok, Vice President (Research and Development) EdUHK
14 November 2020
The Impact of COVID-19 Pandemic: Crisis management, and governance and policy priorities
Professor Anthony Cheung, EdUHK
Professor Christine Loh, HKUST
Professor Donald Low, HKUST
6 February 2021
The Fury of Young People: Aspirations, mobility and identity politics
Professor Anthony Cheung, EdUHK
Professor Stephen Chiu, EdUHK
Ms Sharon CHEUNG, The Hong Kong Federation of Youth Groups
27 February 2021
Housing Affordability: Can there be breakthrough solutions?
Professor Anthony Cheung, EdUHK
Professor Donald Low, HKUST
27 March 2021
The Constraint City: Livability, mobility, connectivity and sustainability
Professor Anthony Cheung, EdUHK
Professor Christine Loh, HKUST
Dr Kris Hartley, EdUHK
8 May 2021
'Hong Kong China': Global city or just another city of China
Professor Anthony Cheung, EdUHK
Professor KC Chan, HKUST
Professor Sung Yun-wing, CUHK
Date
10 October 2020
Topic (YouTube video attached)
Still 'Two Systems'?: Hong Kong under national security law and new global geopolitical environment
Speakers
Professor Anthony Cheung, EdUHK
Professor Lui Tai-lok, Vice President (Research and Development) EdUHK
Date
14 November 2020
Topic (YouTube video attached)
The Impact of COVID-19 Pandemic: Crisis management, and governance and policy priorities
Speakers
Professor Anthony Cheung, EdUHK
Professor Christine Loh, HKUST
Professor Donald Low, HKUST
Date
6 February 2021
Topic (YouTube video attached)
The Fury of Young People: Aspirations, mobility and identity politics
Speakers
Professor Anthony Cheung, EdUHK
Professor Stephen Chiu, EdUHK
Ms Sharon CHEUNG, The Hong Kong Federation of Youth Groups
Date
27 February 2021
Topic (YouTube video attached)
Housing Affordability: Can there be breakthrough solutions?
Speakers
Professor Anthony Cheung, EdUHK
Professor Donald Low, HKUST
Date
27 February 2021
Topic (YouTube video attached)
Housing Affordability: Can there be breakthrough solutions?
Speakers
Professor Anthony Cheung, EdUHK
Professor Donald Low, HKUST
Date
27 March 2021
Topic (YouTube video attached)
The Constraint City: Livability, mobility, connectivity and sustainability
Speakers
Professor Anthony Cheung, EdUHK
Professor Christine Loh, HKUST
Dr Kris Hartley, EdUHK
Date
8 May 2021
Topic (YouTube video attached)
'Hong Kong China': Global city or just another city of China
Speakers
Professor Anthony Cheung, EdUHK
Professor KC Chan, HKUST
Professor Sung Yun-wing, CUHK