FLASS scholars win President's Awards for Outstanding Performance 2019/20 and 2020/21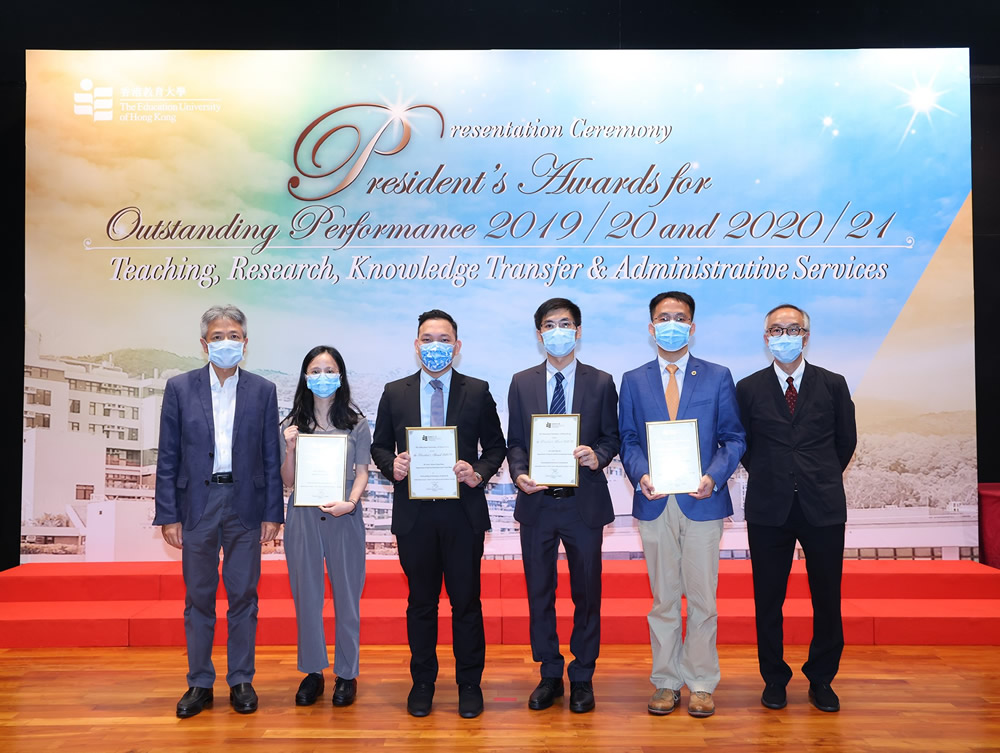 Professor Stephen Cheung Yan-leung, President (left), Dr Chan Man-ho of SES (third from the right), Dr Alex He Jingwei of APS (second from the right) and Professor Lui Tai-lok, the then Vice President (Research and Development) (right), and other recipients of the Outstanding Performance in Research award (2019/20) at the awards ceremony.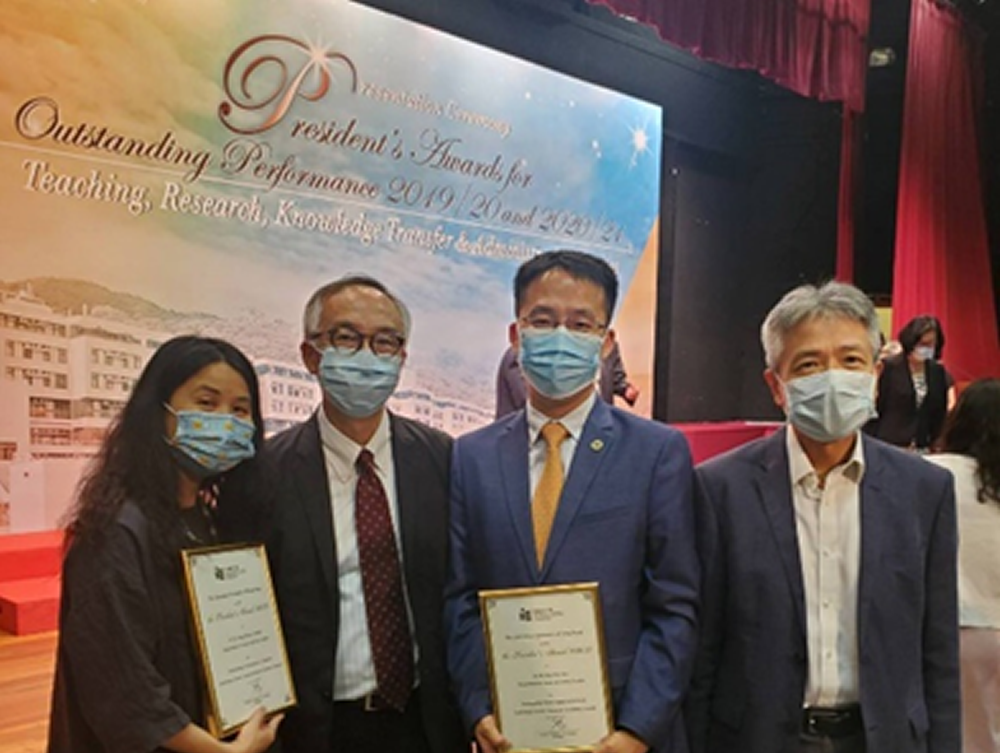 (From the left) Dr Isabella Ng Fung-sheung of APS, Professor Lui Tai-lok, the then Vice President (Research and Development), Dr Alex He Jingwei of APS, and Professor Stephen Cheung Yan-leung, President, at the awards ceremony.
The Education University of Hong Kong established the President's Awards for Outstanding Performance to recognise the distinguished achievements and contributions of staff members in teaching, research, knowledge transfer and administrative services. The Presentation Ceremony of the President's Awards for Outstanding Performance in Teaching, Research, Knowledge Transfer and Administrative Services for the academic years 2019/20 and 2020/21 was held online on 27 May this year due to the pandemic. We would like to congratulate a number of the staff members from FLASS who were recognised and received an award.
Dr Winnie Lam Wai-man
Dr Winnie Lam is a dedicated information technology (IT) educator and data scientist who has demonstrated a strong passion for teaching and exemplary performance. Her research interests are machine learning, AI, and robotics in education. Her teaching philosophy – CITA (Collaboration, Innovation, Technology and Authenticity) – constitutes the basic building blocks of effective teamwork, active learning, technological needs, and real-life practice. Her enthusiastic teaching practices have helped nurture students with different backgrounds and facilitate effective learning, especially during the pandemic.
Building on her background as an educator and researcher, she has supported her students' needs by developing a personalised online evidence-based learning and assessment platform, called GMoodle (
https://gmoodle.eduhk.hk
), which embodies the features of CITA to promote collaborative learning and extend teaching capacity with AI. She has received positive feedback from her students regarding her enthusiastic and innovative teaching methods, and the outcomes have been disseminated in publications and recognised by overseas scholars.
Dr Lam has treasured the opportunities to contribute to the university and has collaborated with various teaching teams and educational organizations to maximize the benefits to foster student learning. She is the Principal Investigator of two Teaching Development Grant (TDG) projects and three Small Grant for Teaching Staff (SGT) projects, which aim to promote collaborative learning, enhance learning support, and incorporate tech tools at the higher education, secondary and primary levels. She also joined the Early Childhood STEM & Maker Education project and a Central Reserve Allocation Committee (CRAC) project promoting AI literacy and AI in education in early childhood and higher education. Her persistent efforts in education have been recognised with awards (a Silver Medal and a Special Inventor Award) in the International Invention Innovation Competition in Canada (iCAN) in 2019 and the FLASS Teaching Award in 2020.
Dr Lam is also the Subject Coordinator of the Bachelor of Education (Honours) (Secondary) – Information and Communication Technology programme. She is responsible for the programme and curriculum design, and for including up-to-date knowledge and promoting social awareness in an authentic context. She always welcomes students to discuss their learning difficulties and future development. She provides quality teaching to foster student success and provides personalised self-directed learning recommendations in her area of expertise.
Dr Isabella Ng Fung-sheung
Dr Isabella Ng Fung-sheung is an Assistant Professor and Associate Head (Teaching and Learning) in the Department of Asian and Policy Studies. Trained as a feminist anthropologist, she applies her research approach to teaching by engaging students in long-term community, policy and research work. Her research training facilitated her adoption of her 3Cs approach – Collaboration, Co-production and Camaraderie – as a way of combining training in the tangible skills of co-construction and application of knowledge, and the intangible personal attributes of resilience, compassion, passion, love and empathy.
Dr Ng's teaching philosophy is "Teaching without borders". She has applied this philosophy by 1) leading her students to work on and in the local community and communities far and wide; 2) encouraging students of diverse backgrounds to engage with marginalized communities; and 3) exposing students to real-life learning by participating in real-life policy advocacy and lobbying processes. She and her students have worked with walled villagers, Thai migrants, and asylum-seekers and refugees in Hong Kong, as well as displaced persons in Thailand and Myanmar. She co-founded a non-government organisation (NGO) with asylum-seekers and students in 2014. Through her engagement with the refugee community, she has co-produced and published journal articles and the first Chinese book on asylum-seeker and refugee issues in Hong Kong, in collaboration with her students. She was the first academic to lead a team of students to prepare and present policy submissions in Hong Kong Legislative Council Public Hearings.
Within the University, Dr Ng developed the popular Communication Studies in Policy and Governance minor, which promotes integrating communication studies as an integral part of contemporary policy studies and advocacy, a crucial element overlooked in the local higher-education curriculum. In 2013, she obtained a Teaching Development Grant to develop a web portal to engage students in instant forum discussions and reflective learning, and to use media tools and strategies to actively engage in policy and social issues.
To live up to her philosophy of "Teaching without borders", Dr Ng has been training academics in universities in Myanmar and giving talks locally and internationally on refugee issues. She has also worked with the United Nations and international NGOs to combat negative narratives about migrants. She received the 2019 "Good Teacher Award" from the Hong Kong Professional Teachers' Union for her dedication and commitment to learning and teaching.
Dr Alex He Jingwei
Dr Alex He Jingwei's main research areas are public policy analysis, health policy and reforms, and comparative social policy.
As Principal Investigator, Dr He secured funding from the Early Career Scheme (ECS), the General Research Fund (GRF), the Public Policy Research (PPR) Funding Scheme, and the World Health Organization (WHO) in the past five years. Success in these external grant applications is a good indication of the recognition of Dr He's significant contribution to social policy research in urban China and Hong Kong, and strong evidence-based policy recommendations.
Dr He is a prolific researcher, with 23 research outputs in the past three years, including 14 journal articles, four book chapters and one edited book. He was the first author or corresponding author in all these publications.
Dr He's specialisation in social policy and health governance with an East Asian focus has been widely recognised. In July 2019, he was selected as a core member of the research consortium of The Asia-Pacific Observatory (APO) on Health Systems and Policies of the WHO. This achievement not only served as a strong testament to Dr He's academic excellence, but also increased the exposure of EdUHK in the international health care community. He has demonstrated outstanding research leadership in the broader academic community, serving as the Associate Editor of the Journal of Asian Public Policy and Executive Member of the East Asian Social Policy Network.
In addition to his research achievements, Dr He is devoted to the promotion of a research culture in both EdUHK and the broader academic community. He has held key administrative roles in his Department, where he is the Associate Head and Chair of the Departmental Research Committee. Since 2016, he has run an annual public policy summer school series, which attracted hundreds of young scholars and research students from Hong Kong, the Mainland, Taiwan, Macau and overseas.
Striving to make an impact for the betterment of the society with his research, Dr He enthusiastically participates in policy advocacy. He has contributed to raising public awareness of health-reform options through extensive media engagements in Hong Kong and China.
Dr Chan Man-ho
As Principal Investigator, Dr Chan secured Early Career Scheme (ECS) funding from the Research Grants Council in 2018/19. In the past three years, Dr Chan also received competitive funding from the Chinese Academy of Sciences to conduct an observational project involving radio telescopes in China. His record demonstrates Dr Chan's outstanding performance in securing research grants in the field of astrophysics.
Dr Chan's record of published research has been remarkable. In the past three years, he has had 21 refereed articles published, 14 of which were sole-author publications and 13 of which were published in Q1 journals. Dr Chan's outstanding and innovative research in the fields of general relativity and quantum gravity is internationally recognised. In 2019, Dr Chan received an Honourable Mention in an annual international essay contest titled "Awards for Essays on Gravitation", whose previous winners included Professor Stephen Hawking and five Nobel laureates.
Dr Chan has actively engaged in serving the community with his research outcomes. He has been invited by schools to deliver talks and public seminars about popular science and frontier physics research. Since 2018, Dr Chan has been a guest host in a TV talk show, titled "Science Night", and an I-Cable TV series about creative science. In 2018/19, Dr Chan's research on Science and Religion was reported in a feature article in Wen Wei Po and shared in a TV documentary series, titled "Exploring the God Question", produced by Kharis Production in Scotland.
Dr Chan has also committed himself to teacher training and STEM education development in Hong Kong. He has been a keynote speaker in teacher development talks and teacher training workshops. He also participated in a STEM education research project as a Co-Investigator to examine STEM teaching and learning activities in primary schools. To develop STEM activities, Dr Chan joined the University-School Support Project and the Quality Education Fund Thematic Networks, funded by the Education Bureau.
CoolThink@JC Project Team
The CoolThink@JC programme teaches primary students computational thinking in a four-year pilot programme, which started in 2016. It was funded and created by the Hong Kong Jockey Club Charities Trust (HKJC), and co-created by Centre for Learning, Teaching and Technology (LTTC) of The Education University of Hong Kong (EdUHK), Massachusetts Institute of Technology (MIT), and City University of Hong Kong (CityU).
The programme was designed to achieve three outcomes: (1) increasing students' content knowledge related to computational thinking (CT Concepts), (2) improving students' problem-solving and logical thinking skills (CT Practices), and (3) generating interest in, and motivation for, computational thinking (CT Perspectives).
Professor Kong, the Principal Investigator of CoolThink@JC, Professor Chiu and Dr Sun, leaders of Course Design and Development, and the Teacher Development Subcommittee, led a joint effort with MIT to develop the course curriculum, learning and teaching materials, and evaluation tools for CT; to design and deliver teacher professional development courses; and to organise international conferences to facilitate the adoption of CT education by primary schools. Professor Kong's team contributed their professional knowledge of programming education to nurture students' proactive use of technology for social good from a young age. CoolThink@JC worked closely with the Education Bureau, benefiting more than 18,000 primary students. CoolThink students successfully implemented CT solutions to problems by developing mobile applications. Primary 5 and 6 CoolThink students learned more than twice as much about CT Practices as students who did not participate in the programme.
CoolThink@JC's programme deliverables exceeded expectations. More than 110 teachers received training on the CoolThink@JC pedagogy "To Play, To Think, To Code", and more than 85 per cent of them subsequently reported that they taught the CoolThink@JC curriculum in a more student-centric manner. More than two-thirds of these teachers have been empowered to teach a new subject area.
The programme secured support from its stakeholders to develop Phase II. CoolThink will create platforms and mechanisms to promote adoption by third parties in the next four years, thereby building a self-sustaining ecosystem for mainstreaming CT-coding education in Hong Kong.
Professor Kong's team has had a far-reaching Knowledge Transfer impact on CT-coding education in Hong Kong.